Congregation Beth Sholom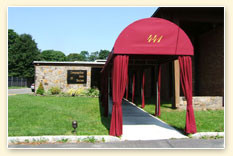 Congregation Beth Sholom is a modern Conservative Jewish Congregation dedicated to spiritualistic new visions and dimension without removing our ancestral traditions. We are located at 441 Deer Park Avenue in Babylon Village, New York (mailing address is PO Box 64, Babylon, NY, 11702).Our spiritual leader is Rabbi Abraham Axelrud, Ph.D.
We wish to invite all Jewish individuals and families, including interfaith couples and families, to join us in worship and education in our newly renovated sanctuary and vibrant religious school. We have programs for young and old from all backgrounds; education and tutoring for the young; adult education; senior groups; youth group; and more. We hold Shabbat services on Friday evenings at 8 PM (except in July and August) and Saturday mornings at 9:30 AM (every week, all year).
We have a newly renovated ballroom and catering facility that is available to celebrate your next simcha.
For more information about our synagogue or to join, please call our office at 631-587-5650 or email bethsholomsite@yahoo.com.
We will arrange a personal tour and have a member answer all your questions.